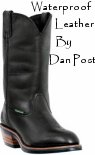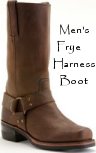 Click here to purchase Dan Post Boot Socks
How do I get a proper fit when purchasing boots?
Generally, your boots should be the same size as your shoe size. However, the toe shape and heel height may affect how they feel. When purchasing boots, always stand to determine proper fit. There are 3 key "tests" that can be used to determine a proper fit.
The boot shank and arch of the foot should have matching curves. If the smaller toes extend beyond the stitching line of the welt, or if the toes cause a bump, the boots are too short. Examine fit across the instep by taking the leather between your thumb and index finger and rub your thumb across the instep. If the boots are too loose, a large wrinkle will appear. A slight wrinkle means the boots fit properly.
Heel Slippage
is normal and does not mean the boots are not fitted properly. After the boots have been worn and the outsole flexed a few times heel slippage should stop resulting in a comfortable wearing boot.
How do I take care of my boots?
Proper care for your boots will greatly extend the life of your boots.
CONDITION
Conditioner helps to maintain the original look and feel of the leather. Conditioning keeps the boots from drying out. Use a conditioner specially formulated for boots. Lanolin based products work best.
Four Seasons Cleaner & Conditioner
is an excellent boot cleaner & conditioner for all leather & exotic skins (don't use on suede). To purchase click here:
Four Seasons Cleaner & Conditioner
POLISH
Periodically apply a matching boot cream polish. The polish will help to cover any scuffs and can be brought to a bright luster. Use edge dressing on the welt to maintain welt color.
PROTECT
Protect your leather boots with Meltonian. Use of boot trees will help maintain shape and form.
---

The Way You Should Care For Your Boots Also Depends On The Type Of Leather The Boots Are Manufactured From. The Following Are Recommended Suggestions For Each Type:

Cowhide:
Brush off loose dirt or dust, then clean using an approved leather conditioner.


Naked Finish:
Brush off loose dirt or dust with a rag, then clean with a soft brush.


Oil Impregnated Leathers:
Brush off loose dirt or dust, then use an all purpose conditioner to replenish the oils.


Suede Leathers:
You should ensure your boots are kept away from mud. Clean with a nylon brush. Do not use Meltonian.


Exotic:
Brush off loose dirt or dust, then clean with a leather conditioner. Then apply a thin coating of matching wax polish then buff with a soft cloth.


Snakeskin:
Wipe against the scales to remove dirt and dust. Apply a coating of matching cream polish - ensuring that you polish with the grain of the scales. Do not use silicone spray on exotic skins boots such as snake and ostrich.