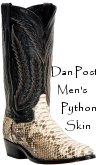 ---



You may return or exchange for any reason as long as there are no signs of wear (especially the soles), boots are in original box
and the original tags are attached. Shipping and handling charges are non-refundable.
All returns/exchanges must be made within 30 days of receipt.
Customer is responsible for return shipping.

To return or exchange, contact us via email at info@nashvilleboots.com or by calling 615-483-7061 between the hours of 9am - 4pm CST Monday thru Friday to obtain a Return Authorization Number.
Use RA# and fill out the Return/Exchange Form that was inside the boot box. Also, use the RA# as part of the return mailing address that is stated on the return/exchange form.
Returns or Exchanges without a Return Authorization Number will not be accepted & will be returned to the sender.

For exchanges, there is no fee for shipping the 1st exchange pair in the continental USA. There is a $7.95 shipping fee for each additional exchange.
Customer is responsible for return shipping.

Items Purchased Online May Not Be Returned or Exchanged at a Nashville Boot Co. Retail Store.

There is a $5.00 per box charge for boots returned with a damaged box (no tape of writing on box) or no box.

Defective Merchandise: Most manufactures have a six-month return policy for manufacture defects, not including comfort or wear. If you feel your boots are defective you must call or email us and get a return authorization number to mail the boots back. Once the item is received, the manufacturer will evaluate and if found defective, replaced. If they determine that there is no defect or the defect was caused by irregular wear, fit, etc. the boots will be returned to sender.

Our Sales Specialists are available to answer any of your questions
by calling 615-483-7061 Monday thru Friday 8am - 4pm CST or
24/7 via email at: info@nashvilleboots.com

You may place orders online anytime 24
hours a day / 7 days a week, but our Specialist are only available
during the above hours. We're happy to serve you.

THANK YOU FOR SHOPPING AT NASHVILLE BOOT CO.